Zamana Jali (Bohemia) Lyrics
Latest song of very popular singer & rapper Bohemia from his new album Skull & Bones is titled as 'Zamana Jali'. Music of the song and its lyrics are given by Bohemia himself under the music label T-Series.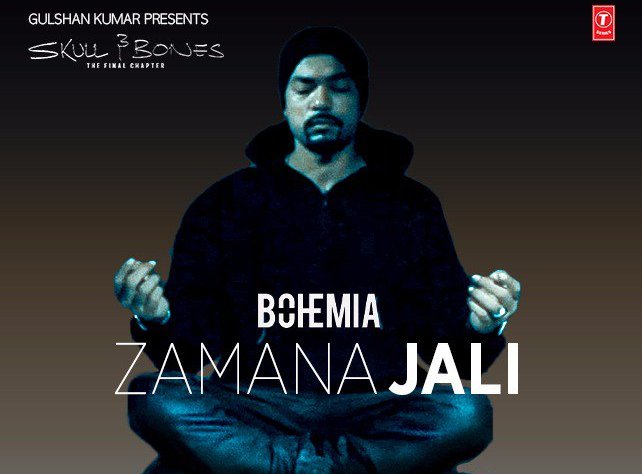 Song Details
Title- Zamana Jali
Singer(s)- Bohemia
Music by- Bohemia
Lyrics by- Bohemia
Music Label- TSeries
Song Lyrics
Ajj kal zamana jali zamana jali
Ajj kal zamana jali –x2
Ajj kal de log jali zamana jali
Maatam te, shok jali zamana jali
Ajj kal ummeed jali zamana jali
Ajj kal di preet jali zamana jali
Par asli ajje vi main jiven
Nashli jehri mere ch shae mere
Bas nahi mainu mere te main ve
Duniya ch das dayin
Bas ikko hi main ve mere
Pichhe pichhe zamana jali
Jihnu dil ton dua do oh daye gaali
Jihnu andhere chon kad ke roshni dikhao
Ohi andhera dikhaye thuanu jadon ohdi baari
Jihnu tijori dikhao ohi kare khali
Jehda phul tode bagh chon oh hi bane maali
Par Raja sadaa befikar main kadi dil ch
Duniya da rakheya nai darr
Ae duniya daur badal de kare nai der
Har sher de hath sada rehndi nai savair
Aaj raaj karaan kal jiven aani nai baari
Aaj kal vairi asli, zamana jali
Aaj kal zamana jali zamana jali
Aaj kal zamana jali –x3
Aaj kal de vairiyan ton daraan main vi
Vairi sadkaan te nai o tech savvy
Excess ch munde 24×7
Gal khatt karan text heavy
Payback pindan vich bethe online worldwide
Mundey kise nu karan hack
Sohni kudi jehdi sada mile online on time
Facetime mango kehndi next time
Naale ajj kal airports te mainu
Tang karan de mundey border petrol de
Mainu khalaar ke sawaal mere ton puchhan
Mere bag kholan, meri jeban tatol de
Par ajje vi main hans ke jawaab dena
Smuggle kare hash jehra ohnu daad dena
Jina de sira te aapan kaali raatan ch firde
Sooraj de chadh vi ohna da hi saath dena
Ajj kal loki labhan mere ch kharabi
Mere jamman ton pehlan mera piyo si sharabi
Par hun ohvi deke mainu maa di gaali
Ve kehnde bete dhayan naal chali zamana jali!
Aaj kal zamana jali zamana jali
Aaj kal zamana jali
Aaj kal de log jali zamana jali
Maatam te, shok jali zamana jali
Aaj kal ummeed jali zamana jali
Aaj kal di preet jali zamana jali