New Punjabi Song 'Viah' by Jass Manak
Young Punjabi singer/composer Jass Manak is back with his new single titled Viah. Presented by Geet MP3, the song is penned by Jass himself & its music is given by Snappy.
Song Details
Title- Viah
Album- Age 19
Singer- Jass Manak
Lyrics by- Jass Manak
Music by- Snappy
Featuring- Jass Manak & Swaalina
Music Label- Geet MP3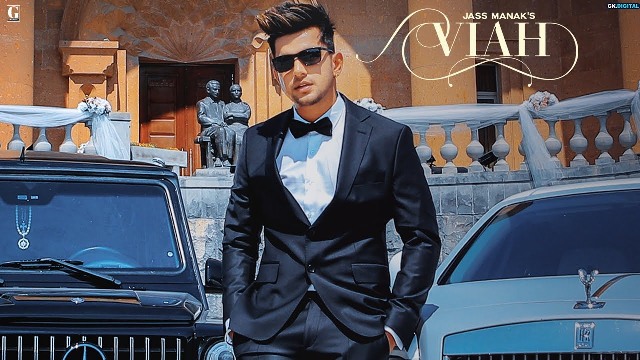 'Viah' Lyrics
Snappy!
Ho jihdi akh vich surme di dhaari hougi
Simple Punjabi jehdi saari hougi
Fashion'aan nu rakhe jo paraan karke
Munde di tan ohse naal yaari hougi
Ho main vi rakhun gaddi kaali
Vich jachu baithi baahli
Jean'a shean'a naalon wakh jihda raah houga
Jehdi bebe nu pasand aayi ohi rakh lau
Jatt da tan ohse naal viah houga
Jehdi bebe nu pasand aayi ohi rakh lau
Jatt da tan ohse naal viah houga… aa ha
Ohde mukhde te sang honi veeni vich bang
Honi bang honi paayi mitran de naam di
Viah tera mera hona billo mele wangra
Tere Manak da viah koi gall aam ni
Ho dekhi hona billo kehar
Jadon kadne aa fire
Mere yaaran beliyan ne paaya gaah houga
Jehdi bebe nu pasand aayi ohi rakh lau
Jatt da tan ohse naal viah houga
Jehdi bebe nu pasand aayi ohi rakh lau
Jatt da tan ohse naal viah houga… aa ha
Ho chacha taaya viah vich main houga
Raajeya de wangu len-den houga
Porsche'aan 'ch aaugi baraat jatt di
Honeymoon Paris Spain houga
Jihna judni kahaani
Main hoon raja oh raani
Ohde naa' de naal mera har saah houga
Jehdi bebe nu pasand aayi ohi rakh lau
Jatt da tan ohse naal viah houga
Jehdi bebe nu pasand aayi ohi rakh lau
Jatt da tan ohse naal viah houga
Jehdi bebe nu pasand aayi ohi rakh lau
Jatt da tan ohse naal viah houga… aa ha
O…
Jehdi bebe nu pasand aayi ohi rakh lau
Jehdi bebe nu pasand aayi ohi rakh lau
Jatt da tan ohse naal viah houga… aa ha