Punjabi Song Mombatiye Lyrics
Latest Punjabi song Mombatiye sung by very well known singer Zohaib Amjad & rapper Raftaar. Music of the song is composed by Manj Musik & video directed by Arsal Khan under the music label of Beyond Studios. Lyrics of the song has been written by Zohaib Amjad himself.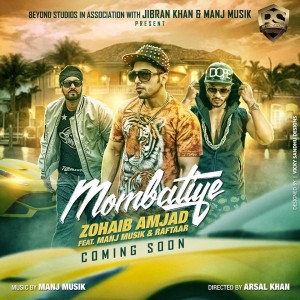 Song Details
Title- Mombatiye (Punjabi)
Singer- Zohaib Amjad
Rapper- Raftaar
Music by- Manj Musik
Lyrics by- Zohaib Amjad
Music Label- Beyond Studios
Song Lyrics
Yeah! Its your boys
Manj Musik, Zohaib, Raftaar
Lets go…!
Sun meri heeriye main khada tera ranjha
Mainu aake ni tu gal naal laa le
12 saal majhiyan charaniyan ni main
Ni maithon vanjhali tu paave vajwa le
Tere naal hoya mainu pyaar dildar ni
Nit karan na main kise naal gal ni
Othe lagg jaandi lambi kudiyan di line
Jithe jaake main khalounda ik pal ni
Chal mere naal tainu dil wali gal
Zara khul ke main ajj samjhawan
Gaddi chh bitha ke kaale sheeshe ohnu laa ke
Tenu sab kolon door lukawan
Puchhle tu paave jaake apni saheliyan nu
Har paase wajje saada naam ni
Daddy ne je tere kitthe vekheya ni mainu
Jaan di hovengi teri maa ni
Ni maa diye mombatiye
Zara sadde nede aa
Ni nashe diye band botle ae
Tenu gat gat main peela…
Ni maa diye mombatiye
Zara sadde nede aa
Ni nashe diye band botle ae
Tenu gat gat main peela…
Nashe diye botle eh na ehni att chuk
Main ikk udeek maarni jaavengi tu muk
Nawa nawa chadeya ae fashion da chah
Tainu dieting kar kar jaavi na tu sukk
Kar zara dieting halki halki
Saanu ae pasand ni tu bulky bulky
Mainu ohna mundeyan di gal na suna
Jehde firde ne tere pichhe tharki tharki
Chup karke ni hun naal mere tur
Ni te le jaana main fadd teri bahn ni
Daddy ne je tere kitte vekhya ni mainu
Jaan di hovengi teri maa ni
Ni maa diye mombatiye
Zara sadde nede aa
Ni nashe diye band botle ae
Tenu gat gat main peela…
Ni maa diye mombatiye
Zara sadde nede aa
Ni nashe diye band botle ae
Tenu gat gat main peela…
O Yeah! Ah Billo!
Tu mainu jaan di eh
Main haan tera Raftaar
Hanji main keha haula
Mainu tak sangdi kardi firre aula
Kaim tu patola poore shehar vich raula
Dilon de raaz khola je sacchi gal bola
Main haan tera Ranjha
Jaan da mera Maula
Meri soch kaafi upar di
Satt lag jaani dil vich je tu mukargi
Delete kar app phone vich Uber di
Le dun tainu chaabi brand new Mini Cooper di
Ohde vich kara ride
Ni taan meri leja tu Ferrari jihde door suicide
Tu hai badi excite
Mainu dass kahton kardi ae baby feeling tu hide
Aukha te saukha
Aap nu kivein rauka
Kar tu yakeen tainu dawanga ni dhokha
Main lokan ton wakh anakhi main anokha
Maranga chauka mainu de de jeh tu mauka
Ni maa diye mombatiye
Zara sadde nede aa
Ni nashe diye band botle ae
Tenu gat gat main peela…
Ni maa diye mombatiye
Zara sadde nede aa
Ni nashe diye band botle ae
Tenu gat gat main peela…
Ho bulliyan te ohda hi naam laida
Jihda saanu chah rehnda
Dil vich ohnu hi vasa laida
Hath jihnu paa laida
Ni maa diye mombatiye
Tainu dil di main das daan
Ni nashe di ae band botle ae
Tainu peeke main jeena
Mere rom rom vich vas gayi tu
Jadon saamne aa ke hass gayi tu
Tere baajon jind meriye
Kite main mar na jaanwa
Ni maa diye mombatiye
Zara sadde nede aa
Ni nashe diye band botle ae
Tenu gat gat main peela…
Ni maa diye mombatiye
Zara sadde nede aa
Ni nashe diye band botle ae
Tenu gat gat main peela…