Humnava Mere (Jubin Nautiyal) New Hindi Song
New single by the popular Bollywood singer Jubin Nautiyal, Humnava Mere is presented by the music label T-Series. Music of the song is given by the duo Rocky-Shiv and lyrics are penned by Manoj Muntashir.
Song Details
Title: Humnava Mere
Singer: Jubin Nautiyal
Lyrics by: Manoj Muntashir
Music by: Rocky – Shiv
Music Label: T-Series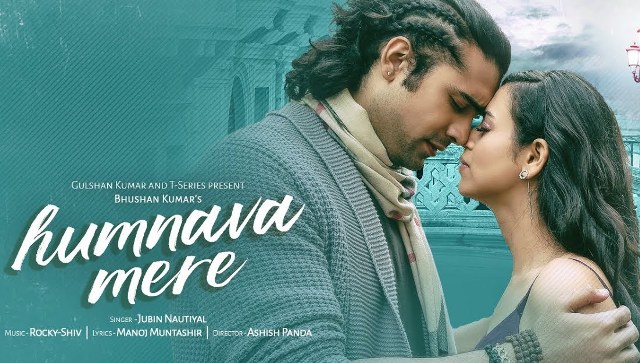 Song Lyrics
Barson ho gaye bichhde
Ab saath nahi ho tum
Phir aisa kyun lagta hai
Jahaan main hoon wahin ho tum
Kya karoon main apni ungliyon ka?
Kisi ki bhi tasveer banaaun
Tumhari ban jaati hai
Ye sirf mera pagalpan hai
Ya tum bhi mere liye pagal thi?
O o…
Kal raaste mein, gham mil gaya tha
Lag ke gale main ro diya
Jo sirf mera, tha sirf mera
Maine usey kyun kho diya
Haan woh aankhein jinhe main
Choomta tha bewajah
Pyaar mere liye kyun
Un mein baaki na raha
Ho…
Humnava mere
Tu hai to meri saansein chale
Bata de kaise main jeeyunga
Tere bina
Ho…
Humnava mere
Tu hai to meri saansein chale
Bata de kaise main jeeyunga
Tere bina…
(O o…)
Har waqt dil ko jo, sataaye
Aisi kami hai tu
Main bhi na jaanu yeh
Ke itna kyun laazmi hai tu
Neendein jaake na lauti
Kitni raatein dhal gayi
Itne taare gine ke
Ungliyaan bhi jal gayi
Ho…
Humnava mere
Tu hai to meri saansein chale
Bata de kaise main jeeyunga
Tere bina
Ho…
Humnava mere
Tu hai to meri saansein chale
Bata de kaise main jeeyunga
Tere bina…
(O o…)
Tu aakhri aansu, o yaara
Hai aakhri tu gham
Dil ab kahaan hai jo dobara
De dein kisi ko hum
Apni shaamon mein hissa
Phir kisi ko na diya
Ishq tere bina bhi
Maine tujhse hi kiya
Ho…
Humnava mere
Tu hai to meri saansein chale
Bata de kaise main jeeyunga
Tere bina…
Ho…
Faasle na de
Ki main hu aasre tere
Bata de kaise main jeeyunga
Tere bina…
Aazma raha mujhe kyun
Aa bhi ja kahin se ab tu
Kaise main jeeyunga tere bina…
Seene mein jo dhadkane hain
Tere naam pe chale hain
Kaise main jeeyunga tere bina…
Jawaab mil gaya mujhe
Main tumhari zindagi mein kahin nahi tha
Phir bhi main hi tumhari zindagi tha
Sirf main hi tumhaare liye pagal nahi tha
Tum bhi,
Humnava mere
Tu hai to meri saansein chale
Bata de kaise main jeeyunga
Tere bina