Jubin Nautiyal's New Song 'Meri Aashiqui'
Young popular Bollywood singer Jubin Nautiyal is back with a new song titled 'Meri Aashiqui'. Presented by T-Series, the song is penned by Rashmi Virag and its music is composed by Rochak Kohli.
Song Details
Title: Meri Aashiqui
Singer: Jubin Nautiyal
Lyrics by: Rashmi Virag
Music by: Rochak Kohli
Music Label: T-Series
Featuring: Jubin Nautiyal, Ihana Dhillon & Altamash Faraz.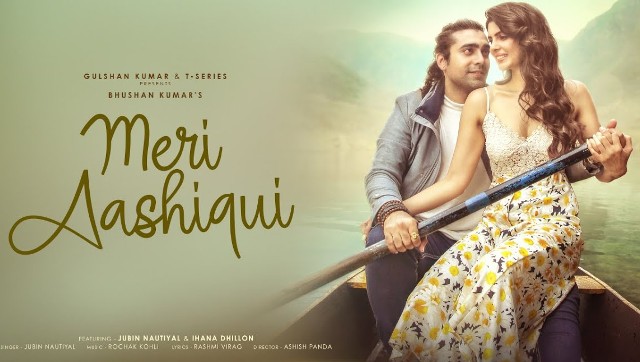 'Meri Aashiqui' Lyrics
Baarishein aa gayi aur chali bhi gayi
Koi dil mein siwa tere aaya nahi
Jab bhi sajda kiya naam tera liya
Bhool jaana tujhe humko aaya nahi
Dil to hai par jaane kyun
Dhadka hi nahi hai kab se
Yeh dua hai meri rabb se
Yeh dua hai meri rabb se
Tujhe aashiqon mein sabse
Meri aashiqui pasand aaye…
Meri aashiqui pasand aaye…
Yeh dua hai meri rabb se
Tujhe aashiqon mein sabse
Meri aashiqui pasand aaye…
Meri aashiqui pasand aaye…
Meri aashiqui pasand aaye…
Tum hi ab kuch kaho
Suljhaun kaise yeh mushkil
Haan tum hi ab kuch kaho
Suljhaun kaise yeh mushkil
Jhooth bol ke hi
Rakh lo na tum mera yeh dil
Chaaho toh tod dena
Toota hi nahi yeh kab se
Yeh dua hai meri rabb se
Tujhe aashiqon mein sabse
Meri aashiqui pasand aaye…
Meri aashiqui pasand aaye…
Meri aashiqui pasand aaye…
Katra katra jee raha hoon
Lamha lamha mar raha hoon
Kaise khud ko main sambhalun tu bataa…
Tere bin hai soona soona
Mere dil ka kona kona
Tu kya jaane kaise itne din jiyaa
Kaise dil ko…o…
Kaise dil ko main manaaun
Naraaz pada hai kab se
Yeh dua hai meri rabb se
Tujhe aashiqon mein sabse
Meri aashiqui pasand aaye…
Meri aashiqui pasand aaye…
Meri aashiqui pasand aaye…
Meri aashiqui pasand aaye…