Aa Chak Challa (Sajjan Adeeb) Song
Latest Punjabi song of rising singer Sajjan Adeeb is titled as Aa Chak Challa. Music of the song is composed by Jay K and lyrics are penned by Manwinder Maan under the music label Speed Records.
Song Details
Title- Aa Chak Challa
Singer- Sajjan Adeeb
Music by- Jay K
Lyrics by- Manwinder Maan
Music Label- Speed Records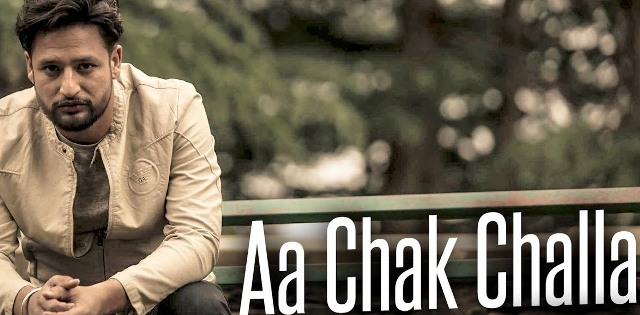 Song Lyrics
.
Aa chak apna challa ve
Ja paade jaake gairan nu
Aa chak apni jhanjhar ve
Hun bhari lagdi pairan nu
Jehde chann de pichhe tenu
Saddi soorat disdi ve
Vekhange tenu kol payau
Kacche dudh vich mishri ve
Saddiyan julfan chhan ve katiyan
Bhul geya sikkar dupehran nu
Aa chak apna challa ve
Ja paade jaake gairan nu
Aa chak apni jhanjhar ve
Hun bhari lagdi pairan nu
Ke aa chak apna challa ve
Ja paade jaake gairan nu
Fikka pai gaya rang pratapi
Khha chhande phirde ve
Jind saddi jaan vaar chali ton
Dekkan de phull kirde ve –x2
Ishq jinna de haddi racheya
Tod vagaunde meharan nu
Aa chak apna challa ve
Ja paade jaake gairan nu
Aa chak apni jhanjhar ve
Hun bhari lagdi pairan nu
Ke aa chak apna challa ve
Ja paade jaake gairan nu
Tu ishqan di taal na ditti
Jhumar paunde chahvan nu
Maar ke adi langde si
Jad pind tere de rahvan nu –x2
Kade tu honth swaad ke sharbat
Kar ditta si jehran nu
Aa chak apna challa ve
Ja paade jaake gairan nu
Aa chak apni jhanjhar ve
Hun bhari lagdi pairan nu
Ke aa chak apna challa ve
Ja paade jaake gairan nu
Ho…
Bhul geya jehdi goonj sohneya
Surkh kaware haase di
Bulliyan de naal bhurni nahi hun
Bhari madak patashe di –x2
Main badlan te khad ke mangdi
Ajj vi teriyan khairan nu
Aa chak apna challa ve
Ja paade jaake gairan nu