Yaara (Jammin's Anthem Song) Lyrics
Latest Hindi song Yaara is the anthem song of Jammin'- the mega collaboration of legendary singer-composer AR Rahman with digital youth icons Sanam, Shraddha Sharma, Siddharth Slathia, Arjun Kanungo, Jonita Gandhi, Sanah Moidutty, Raaga Trippin, Maati Baani and Mumbai's Finest. Lyrics of the song are penned by Navneeth.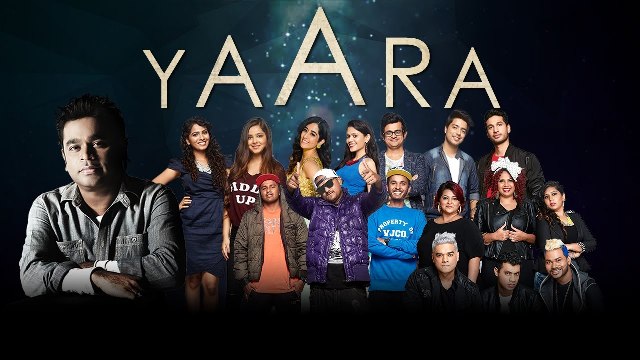 Song Details
Title- Yaara
Singer(s)- AR Rahman, Sanam (Sanam Puri, Samar Puri, Venky S, Keshav Dhanraj), Shraddha Sharma, Siddharth Slathia, Jonita Gandhi, Arjun Kanungo, Maati Baani ( Nirali Kartik & Kartik Shah), Sanah Moidutty, Raaga Trippin (Alan De Souza, Gary Misquitta, Gwen Dias, Keshia Braganza, Suzanne D'Mello and Thomson Andrews) and Mumbai's Finest (Ace, Diefferent, Ninja)
Music by- AR Rahman
Lyrics by- Navneeth
Song Lyrics
Jaane kyun beimaan hai
Mera hi aaina
Mujhe pehchane na
Kyun lage aaj khud se yeh pehli mulaqaat hai
Chamkeela suraj toh hai utha
Phir bhi in aankhon mein ghoome
(kyun) gehri raat hai
Kaisi hai yeh roshni
Jo mujh tak aaye na
Haath badhaye na
Nazrein milaye na
Raat bujhaye na
Kyun har chehre
Pe lagey pehre
Yeh zameen deewaron ke bina thi bani
Khud se khafa hai (yeh) saara jahan
Naraaz hai, naraaz hai…
Mann ke gehre se kamron mein dhoonda
Toh miley bhoole se darwaaze o…
O… Khola toh dahleez pe khadi thi subah ki kiranein o…
Dhul gayi beh gayi saari siyahi
Ghuli hain muskaanein
Udaa mann hawaa ban
Pehchane na sarhadein
Hai saanjha sa noor yeh
Saanjhi yeh rehmatein
Hum judaa toh na the…
Wohi ghamon se hai
Wohi khushi se hai dosti
Ek si hai zindagi…
Yaara hum nahin ajnabi
Ajnabi toh hum nahin
Dhadke seene mein
Yeh dil toh hai wohi
Yaara hum nahin ajnabi
Ajnabi toh hum nahin
Mitti se sab baney
Wohi rooh toh hai bhari
Yaara ham-watan ya ham-mazhab ya ham-zubaan hum na sahi
Yaara iss zameen pehi ho jannat yeh toh chaahein hum sabhi
Aa haath mila…
Rap:
Honge aab, ek aaj
Ek jaan, jazbaat
Saath haath mil baat
pyaar ka yeh saugaat
Laqeerein ye mitani
Hathiyaar ye hatane
Aise ho ye yaari
Ki hum milke in deewaron ko girade.
Khud se kyun sawaal jab khud main hi jawab mere yaar
Kyun na baante zindagi main pyaar jeele aaj
Kyun hai kyun hai sacch se anjaan kyun hai
Hum sab mein ek jaan hai
Sab pehle insaan hai
Yaara yaara
Yaara hum nahin ajnabi
Ajnabi toh hum nahin
Dhadke seene mein
Yeh dil toh hai wohi
Yaara hum nahin ajnabi
Ajnabi toh hum nahin
Mitti se sab baney
Wohi rooh toh hai bhari