Akhar (Lahoriye- Amrinder Gill) Lyrics
Latest love song from the Punjabi film Lahoriye starring Amrinder Gill and Sargun Mehta, is titled as Akhar. The song is sung by Amrinder himself and composed by Jatinder Shah. Lyrics of Akhar are written by Surinder Sadhpuri and presented by Rythm Boyz Entertainment.
Song Details
Title- Akhar
Movie- Lahoriye (2017)
Singer(s)- Amrinder Gill
Music by- Jatinder Shah
Lyrics by- Surinder Sadhpuri
Music Label- Rythm Boyz Entertainment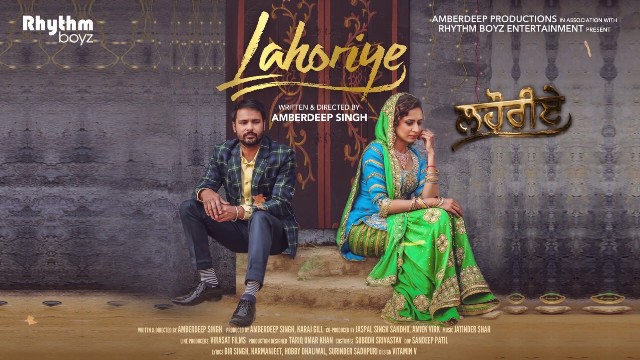 Song Lyrics
Ni main tere naalon sohna
Koi vi vekheya na
Suraj tatta te
Chann daagi taare pathar ne
Koi mull nahi si
Than than rulde phirde si..
Loha paar la ditta
Ik chandan di lakkad ne –x2
Bahn te likheya naale
Vekhan naale chumma main
Meri surt (surat) bhulati
Tere naa (naam) de akhar ne –x2
Aithe koi na milda
Appe Rabb milaunda ae…
Milna vichhadna ae
Sab kismat de chakkar ne… –x2
Jehde ess jahaano
Ik dooje ton vichad gaye
Khore kes jahaane
Mud oh jaake takkarne –x2
Ni main tere pichhe
Aakhir tikar auna ae
Bhavein paer'an de vich chub de
Sulaan bhakhad ne –x2
Mainu pata nahi si
Ishq tere diyan kadiyaan ne
Ni hath paer soniye
Aidan mere jakkad ne –x2
Ni main tere naalon
Tutt ke injh suk sadh jaana
Tutt de tahni naalon
Jivein soniye pattar ne… –x2