Sher (Harbhajan Mann) Song Lyrics
Very popular Punjabi singer Harbhajan Mann is back with his new song 'Sher'. It is composed by Tigerstyle and its lyrics are written by Babbu Singh Maan under the music label T-Series.
Song Details
Title- Sher (Punjabi)
Singer(s)- Harbhajan Mann
Music by- Tigerstyle
Lyrics by- Babbu Singh Maan
Music Label- T Series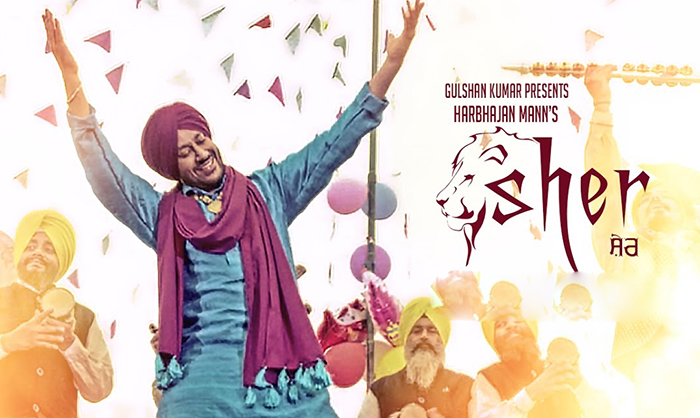 Song Lyrics
Kahnu sikhe nu sikhavein
Kahnu padhe nu padhavein –x2
Ae main janda nashile naina waliye
Kise haan di kudi nu kiven karida pyaar
Kehda sappan nu, ni kehda sappan nu
Kehda sappan nu sikhaunda dang maarne
Tigerstyle!
Kehda sappan nu sikhaunda dang maarne
Kihne sheran nu sikhaya
Kivein karida shikaar –x2
Sannu gudti mili hai dhuron pyaar di
Sir dharke galli 'ch jayiye yaar di –x2
Ni jaan heel ke veyonde mang apni
Ni jaan heel ke veyonde mang apni
Assi Mirze de bhai albele shahsawar
Kehda sappan nu
Ni kehda sappan nu
Kehda sappan nu sikhaunda dang maarne
Kihne sheran nu sikhaya
Kivein karida shikaar –x2
Pyar sohniye siran di hunda baazi ni
Assi yaar di raza 'ch rehnde raazi ni –x2
Assi hass ke ghulami kitti pyaar di
Assi hass ke ghulami kitti pyaar di
Assi haq layi hamesha chuk lehnde hathiyaar
Kehda sappan nu
Ni kehda sappan nu
Kehda sappan nu sikhaunda dang maarne
Kihne sheran nu sikhaya
Kivein karida shikaar –x2
Uss aadmi da jeena ki jahan te
Jihde uth de ungal khandaan te –x2
Maan'a rakhde khayal khandaan da
Maan'a rakhde khayal khandaan da
Asi izzat anakh aabru de pehredaar
Kehda sappan nu
Ni kehda sappan nu
Kehda sappan nu sikhaunda dang maarne
Kihne sheran nu sikhaya
Kivein karida shikaar –x2