Saroor (Resham Anmol) Song Lyrics
Latest Punjabi song 'Saroor' is sung by Resham Anmol and very popular Indian rapper Raftaar. Its music is composed by Desi Crew and lyrics are given by Gurjit under the music label Speed Records.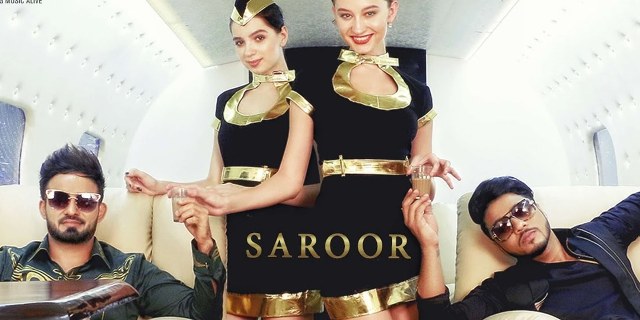 Song Details
Title- Saroor
Singer(s)- Resham Anmol
Rap by- Raftaar
Music by- Desi Crew
Lyrics by- Gurjit
Music Label- Speed Records
Song Lyrics
Chad di jawani de saroor ch rahan
Na garoor ch rahan na fitoor ch rahan
Loki kehnde gabru akad karda
Main tan mood ch rahan
Vekh ke chadayi sadsi
Veriyan di hiq yaaron saadi payi ae
Ho sukh naal dabbi halle bhari payi ae
Akh chadi payi ae garari adi payi ae –x2
Daru sodde da na koi craze rakhda
Ni parhez rakh da
Cha vich meetha patti tej rakhda
Ni munda tej rakh da –x2
O dulli phirdi ae Gurjeet te
O dudh wangu ghadi payi ae
Sukh naal dabbi halle bhari payi ae
Akh chadi payi ae garari adi payi ae –x2
Ra ra Raftaar
Di dahaad naale Resham di hek bai
Sunde hi saari bairi dinde matha tek bai
Hileya sara tu nazara ae vekh de vi
Loki uthe shadd de thaan saade behn lai
Raa attitude aa wajde salute aa
Hasda main rehna kyu ki din ajj good aa
Very good siga kal vi
Yaara enna chal ni
Le chaa peela meethi iss ch paaya hoya good aa
Ni tu aape has denga
Raaz diyan galla hun aape das denga
Kari fikar na tu kitti a si karda
Marun marda main kaana fussiya ni karda
Na na adi aa main bhed chaal da
Bawaa veera phirda si gall akhda
Giddan da suna ae group phirda
Kehnde sher marna, aaja!
Landu banda kadhe nahio yaar rakheya
Na saheli fukri
Cheene ya kabootran da shaunk jatt nu
Ghodi rakhi nukri –x2
Ho ikko time load hunde 9 rondh
Cheez saddi khari payiye
Sukh naal dabbi halle bhari payi ae
Akh chadi payi ae garari adi payi ae –x2
Ho neeli chatt wale di ae
oht balliye nai koi thot balliye
Uk takk challe karobar jatt da
Ni kam lot balliye –x2
Resham naal yaari road pind wale di
Kateed darri payi ae
Sukh naal dabbi halle bhari payi ae
Akh chadi payi ae garari adi payi ae –x2