PRDP Title Track Lyrics
Complete music album of Salman Khan's upcoming movie Prem Ratan Dhan Payo is out now. The music of the movie has been composed by Himesh Reshammiya under the music label T-Series. Its title song is sung by Palak Muchhal & penned by Irshad Kamil.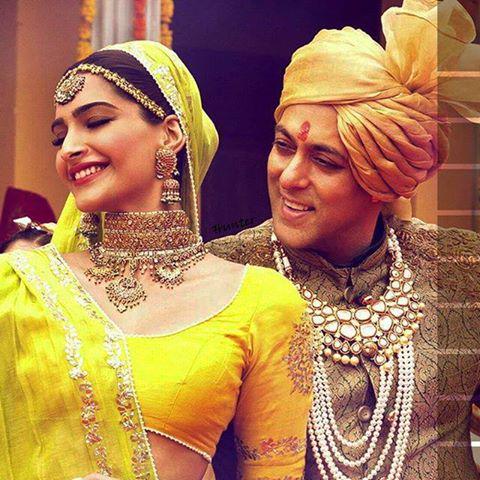 Song Details
Title- Prem Ratan Dhan Payo
Movie- Prem Ratan Dhan Payo
Singer- Palak Muchhal
Music by- Himesh Reshammiya
Lyrics by- Irshad Kamil
Music Label- T Series
Song Lyrics
Sukh dukh jhoothe
Dhan bhi jhootha
Jhoothi moh-maaya
Saccha mann ka wo kona jahaan
Prem ratan paaya
Prem ratan paaya..
ni ni sa sa re re sa sa…
Payo… Payo…
Layo… Chhayo…
Aayo… Gayo…
Payo…
Saiyan tu kamaal ka
Baatein bhi kamaal ki
Laaga rang jo tera
Hui main kamaal ki
Payo re payo re payo re payo re payo
Payo re payo re payo re payo re payo re…
Prem ratan dhan payo (payo)
Prem ratan dhan payo (payo)
Rut milan ki layo
Prem ratan
Prem ratan dhan payo maine (payo)
Prem ratan dhan payo
Kya main dikha doon
Yaa main chupa loon
Jo dhan hai mann mein
Yeh bhi na jaanu
Bajne lagi kyun sargam si tann mein
Khushiya si hai aangan mein
Chehre pe aaye meri rangatein gulaal ki
Laaga rang jo tera hui main kamaal ki
Payo re payo re payo re payo re payo
Payo re payo re payo re payo re payo re…
Prem ratan dhan payo (payo)
Prem ratan dhan payo (payo)
Mann gagan par chayo
Prem ratan..
Prem ratan dhan payo maine (payo)
Prem ratan dhan payo
Mujhko the ghere jitne andhere
Ho gaye door sabhi
Sab sapno ki
Sab rishton ki paa li keemat bhi
Prem ko main samjhi
Kisi ne na ki meri
Tune jo sambhaal ki
Laaga rang jo tera hui main kamaal ki
Payo re payo re payo re payo re payo
Payo re payo re payo re payo re payo re…
Prem ratan dhan payo (payo)
Prem ratan dhan payo (payo)
Aaj mann bhar aayo
Prem ratan
Prem ratan dhan payo maine (payo)
Prem ratan dhan payo
Chhayo… Aayo…
Layo… payo…
Payo