Badshah New Song 'Perfect' Lyrics
The very popular rapper, singer, composer & lyricist Badshah is back with his new single Perfect in collaboration with singer Gurinder Rai. The song is presented by the music label Times Music.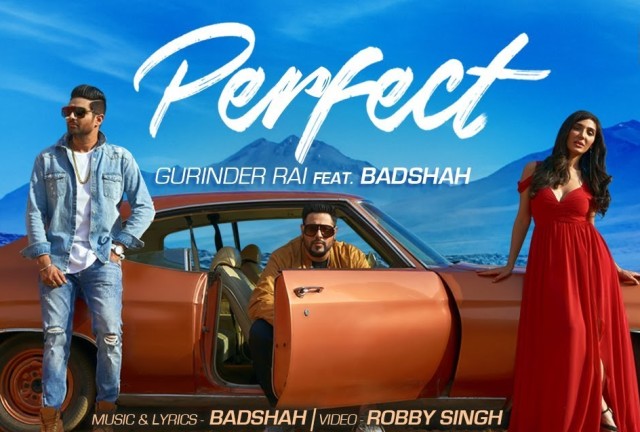 Song Details
Title- Perfect
Singer- Gurinder Rai & Badshah
Lyrics by- Badshah
Music by- Badshah
Music Label- Times Music
Song Lyrics
Yeah!
Mr Rai!
It's your boy!
Akhiyan 'ch soorma tu paya kar naa…
Baal to colour karaaya kar naa
Lod ni tenu kisi mascare di…
Bullan utte lippi laya kar naa…
Ikk gal tu dass de mainu
Makeup kahton kardi aein
Rabb ne jehda husn ditta
Ohnu cover kyun karke rakhdi ae
Ikk gal tu dass de mainu
Makeup kahton kardi ae
Mainu taan ohda hi…
Tu lagge mainu perfect
Jind ban gayi tu saadi girl
Tu lagge mainu perfect
Tere wargi nobody girl –x2
— Badshah Rap —
Perfect jaise Kohli ki timing
Perfect jaise flow mera, flow mera
Teri har ek cheez hai perfection
Mind karti hai blow mera
Har outfit teri hit
Teri alag hawaa
Tujhe nahi parwaah girl!
Jaadu kala teri yeh jawaani
Na kisi se de ye kuch karwa girl!
Kar le tu love, na kar tu ladaaiyan
Ladkon ki tere pichhe chhooti hai padhaaiyan
BP ho jaaye low jab cute sa face
Bana ke leti tu angdaaiyan
Jo bhi tujhe chahiye le le go grab it
De de mujhe dil apna let me have it
Yeh to tujhko bhi hai pata
Lunga tujhko pataa
Main kyun? habit!
(You know it…)
Badshah…
Tenu lod ni kudiye
Mehngiyan mehngiyan dress'an di
Teri simplycity ne patlon kehar machaya ae
Kyun sheeshe muhre behke time gawauni ae
Jad Rabb ne khulla time tere te laaya ae
Koi kami, labhdi nahi
Tu jachdi ae saari ni
Kal ki kar'aan. Rabb ton darr'aan
Lakk patla patta ton bhaari ni
Koi kami, labhdi nahi
Tu jachdi ae saari ni
Kal ki kar'aan, Rabb ton darr'aan
Lakk patla…
Tu lagge mainu perfect
Jind ban gayi tu saadi girl
Tu lagge mainu perfect
Tere wargi nobody girl –x4