Neruppa Da (Kabali) Song Lyrics
Latest Tamil song 'Neruppa Da' is from the movie 'Kabali', starring superstar Rajinikanth and Radhika Apte. The song is sung by Arunraja Kamaraj and composed by Santhosh Narayanan. Its lyrics are penned by Arunraja himself under the music label Think Music.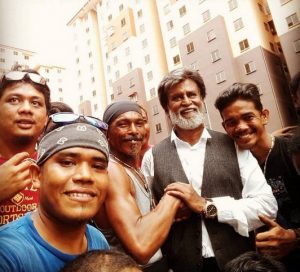 Song Details
Title- Neruppa Da
Movie- Kabali (2016)
Singer(s)- Arunraja Kamaraj
Music by- Santhosh Narayanan
Lyrics by- Arunraja Kamaraj
Music Label- Think Music
Song Lyrics
Neruppu da
Nerungu da
Mudiyuma…
Bayama ha ha
Neruppu da
Nerungu da paapom
Nerungunaa posukura koottam
Adikkura azhikkura yennam
Mudiyumaa nadakkumaa innum
Adakkunaa adangura aalaa nee
Izhuthathum piriyura noolaa nee
Thadaiyellam mathikira aalaa nee
Vidiyala virumbidum kabali..
Kabali..
Magizhchi
Karunaiyai maru kavalaigalai aru
Idhayathil oru irukkam varum poru
Yaavum ingae maayam maayam
Un veeram endrum seeri paayum
Nam desam engum rosham yerum
Oru vaarthai kooda
Pudhu maatram kaanum
Na vandhutenu sollu
Thirumbi vandhutenu,
25 varshathuku munale epdi ponano kabali
Apdiye thirumbi vanthutenu sollu..
Kabali da
Viduthalaiyadai
Vidaiyena ninai
Bayathiyae murai
Pagal kanavai udai
Veeram thiyagam modhum modhum
Un tholil kaayam aarum aarum
Ini krotham dhrogam maayum maayum
Varungaalam iniyum
Ithigaasam aagum
Kabali, Kabali Kabali Kabali