Nakhre (Jassie Gill) Lyrics
Latest song of very popular Punjabi singer Jassie Gill is titled as Nakhre, presented by Speed Records. Music of the song is composed by Desi Routz and lyrics are penned by Maninder Kailey.
Song Details
Title- Nakhre
Singer(s)- Jassie Gill
Music by- Desi Routz
Lyrics by- Maninder Kailey
Music Label- Speed Records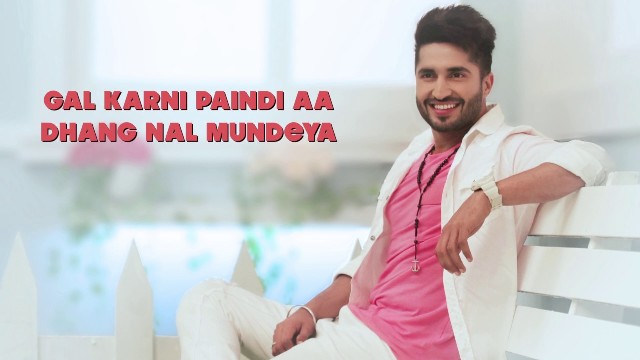 Song Lyrics
Dekhi mar na jayi tu sang naal mundeya
Gal karni paindi aa dhang naal mundeya –x2
Je mainu karda pasand kyon ni bolda
Karda pasand kyon ni bolda
Roj lang jaana dekh mera muh ve
Main kudi hoke enne nakhre ni kardi
Jinne munda hoke karda ae tu ve –x2
Desi Routz!
Unjh mitran naa rehna ve tu tor kadh ke
Hor paase tur jana mera raah chhad ke
Rakh jigra je jatti nu pyar karda
Mainu pata mere utte kadon da tu marda
Pehla gabru tan ban jeon jogeya
Gabru tan ban jeon jogeya
Mainu bebe di banona je tu nooh ve
Main kudi hoke enne nakhre ni kardi
Jinne munda hoke karda ae tu ve –x2
Mauka zindagi 'ch kade vaar vaar na mile
Time lang janda fer banda karda giley…
Munda settle Canada 'ch tralla apna
Tere palle hi na reh jave raan apna
Je ring ceremony ho gayi kise hor naa
Engagement hogi kise hor naa
Fer saarda firenga looh looh ve…
Main kudi hoke enne nakhre ni kardi
Jinne munda hoke karda ae tu ve –x2
Mera number erase kare dial karke
Mere naam naal par dina sare varke
Dekh horan nu bana ke bethe kiven jodiyan
Sun jhaleya ve tenu akkalan ne thodiyan
Kailey yaar tere dehn tainu honsla
Yaar tere dehn tenu honsla
Tere kann te sarakdi na joon ve
Main kudi hoke enne nakhre ni kardi
Jinne munda hoke karda ae tu ve –x2