Dilli De Sardar Boys (TVF) Full Lyrics
India's very famous YouTube channel The Viral Fever Videos' latest Punjabi version of the American song Starboy, titled as Dilli De Sardar Boys. The song is sung by Singhsta, who has composed its music too. Lyrics of the song are written by Jasmeet Singh Bhatia and Jasdeep Singh under the music label TVF Cocan Studio.
Song Details
Title- Dilli De Sardar Boys
Singer(s)- Singhsta
Music by- Singhsta
Lyrics by- Jasmeet Singh Bhatia & Jasdeep Singh
Feat.- Aparshakti Khurana
Music Label- TVF Cocan Studio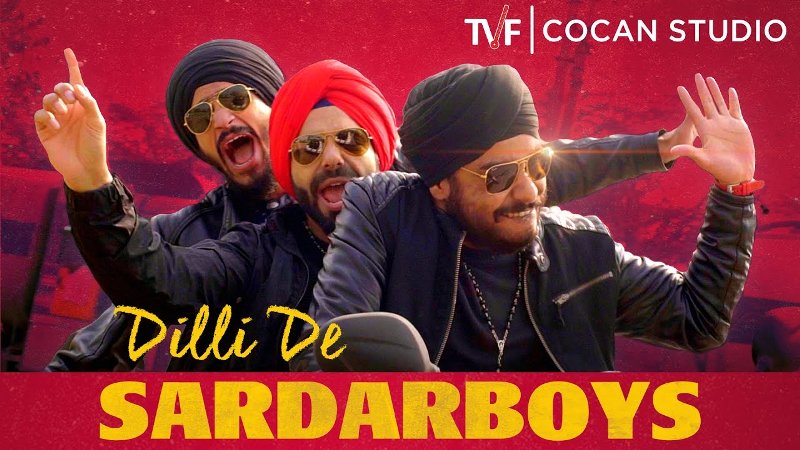 Song Lyrics
Self start rakhi appa activa
Mummy kehndi munda sadda hai beeba
Jizzy Burrah Simar di tigdi aa
B.Tech di achieve kiti degree aa
Sheesha dekh ladd set kar layi da
Snacks wich momos chowmein khaa layi da
Raati butter chicken chala layi da
Kha kha daadi 'ch fasa layi da
Palika to leya Armaani
Helmet'an di koi parwah nii
Scooty di vi tanki full karra layi
Tripling 'ch overspeed gaddi main dauda layi…
Pooni kitti kundi 'ch fasaake
Daadiyan te simco laake
Naal paaye reshmi thathe
Appa maa piyo de vigaade hoye kaake!
Paande har paase gand
Appa Dilli de Sardar Boys
Leya iPhone 7
Ho…appa Dilli de Sardar Boys
Gaffar market poche ne jatt
Ajj pagg'an pichhe salaaiyan fasake
15 di parking parchi kataake
Ray-Ban di first copy test keeti laake
Peg pungg laake sunan Babbu Maan
Bhangre 'ch vasdi ehnaa di jaan
Maa piyo ne rakhe sidhe saadhe naam
Sardian 'ch bacche rehnde, ehna de kaan
Khande aala tattoo sadde modhe te
Designer kade paaiye appa gutt te
Peelaiye chhabeel change moke te
Soft sadde heart, hurt honde chhote dhoke te…
Daddy to chhupa ke paaiye topi
Rakhde aan life sada sokhii
Personality vi rakhi ae anokhi
Attention'an de bukkhe, rehnde naiyo kade low-key!
Paande har paase gand
Appa Dilli de Sardar Boys
Rehnde number 1
Ho…appa Dilli de Sardar Boys
Appa Dilli de Sardar Boys
Appa Dilli de Sardar Boys