Chitte Ton Parhez Chahida (Crazy Demands) Song Lyrics
Latest Punjabi song 'Crazy Demands' is sung by Happy Raikoti. Lyrics of the song are penned by Happy himself and music is given by Desi Crew under the music label Speed Records.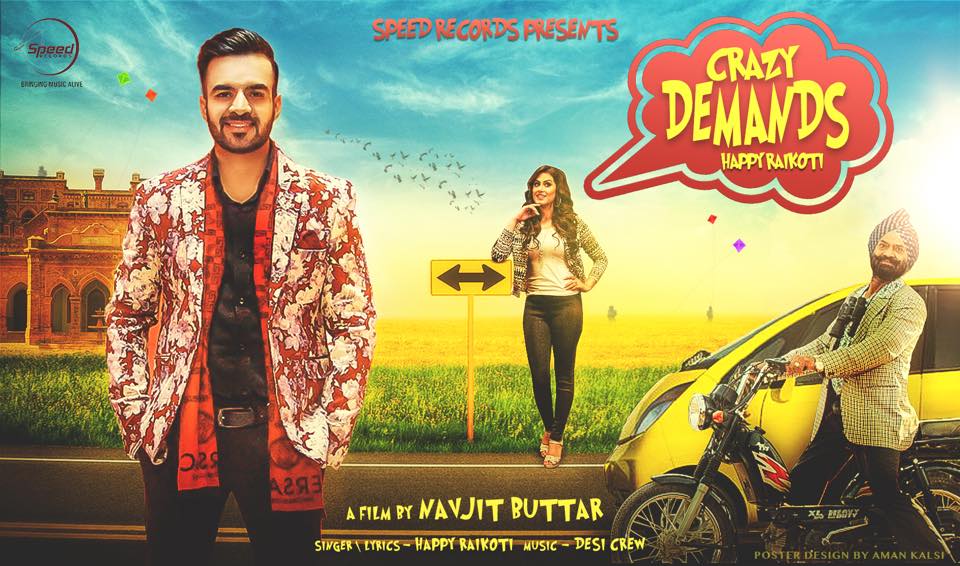 Song Details
Title- Crazy Demands (Punjabi)
Singer(s)- Happy Raikoti
Music by- Desi Crew
Lyrics by- Happy Raikoti
Music Label- Speed Records
Song Lyrics
Desi Crew…Desi Crew
Cinema tan janda hove (cinema tan janda hove)
Jaave na club oh (jaave na club oh)
Nikki nikki gal te na (nikki nikki gal te na)
Ponda hove yab jo (yab jo)
Cinema'e tan janda hove jaave na club oh
Nikki nikki gal te na ponda hove yab jo..
Munda rang da vi pakka hove koi na
Main ni kehndi angrej chahida
Daaru duru, daaru duru, daaru duru
Daaru duru peenda hove chalju
Ji par chitte ton parhez chahida
Sip sip launda hove chalju
Ji par chitte ton parhez chahida
Oh gediyan na laave par landi jeep rakhi hove
DC di ni lorh kheti baadi 'ch tarakki hove
Gediyan na laave par landi jeep rakhi hove
DC di ni lorh kheti baadi 'ch tarakki hove
Khede na kabbadi bhaven koi na
Par gym da craze chahida
Daaru duru, daaru duru, daaru duru
Daaru duru pinda hove chalju
Ji par chitte ton parhez chahida
Sip sip launda hove chalju
Ji par chitte ton parhez chahida
Ghodiyan da shonk hove chaddi sardar nu
Rehndi hove deek jihdi roz akhbaar nu
Ghodiyan da shonk hove chaddi sardar nu
Rehndi hove deek jihdi roz akhbaar nu
Hor kitte gal jo vatta lave
Enna vi ni tezz chahida
Daaru duru, daaru duru, daaru duru
Daaru duru peenda hove chal ju
Ji par chitte ton parhez chahida
Sip sip launda hove chal ju
Ji par chitte ton parhez chahida
Mukdi ae gal mainu sahan ch wasa lave
Russan jadon mainu hath jod ke mana lave
Mukdi ae gal mainu sahan ch wasa lave
Russan jadon mainu hath jod ke mana lave
Happy Raikoti jeha chahida
Jihnu mera bas haij chahida
Daaru duru, daaru duru, daaru duru
Daaru duru peenda hove chalju
Ji par chitte ton parhez chahida
Sip sip launda hove chalju
Ji par chitte ton parhez chahida