Chitta Ve (Udta Punjab) Song Lyrics
Latest urban song 'Chitta Ve' from the movie Udta Punjab is starring Shahid Kapoor. The song is sung by Shahid Mallya, Babu Haabi & Bhanu Pratap and its music is given by Amit Trivedi. Lyrics of Chitta Ve are penned by Shellee under the music label Zee Music Company.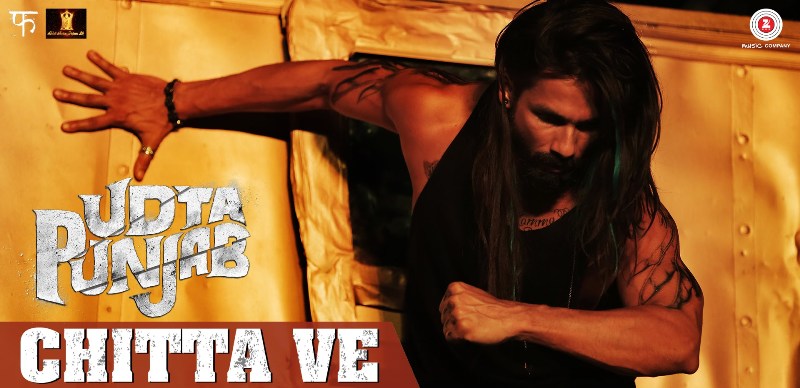 Song Details
Title- Chitta Ve
Movie- Udta Punjab
Singer(s)- Shahid Mallya, Babu Haabi & Bhanu Pratap
Lyrics by- Shellee
Music by- Amit Trivedi
Music Label- Zee Music Company
Song Lyrics
Dekho dekho…
Dekho main hoon aamne
Aur tussi ho saamne
Burrah, burrah, burrah
Hai lage dil thaamne
Zindagi chill hai ya
Jiyo jiyo speed vich
Aazadi lipti maza hai saare weed vich
Chaude mein raho high
Kaahe ki koi rok tok
Chucha karre jo koi
Usko do othe hi thok
Chaddi pehan ke gaaun
Ya phir gaaun nanga
Tu hota hai kaun chuje
Chal teri maa da kangna
Main jaisa bhi hoon
Cool cool dude changa
Panga na lena mujhse
Main udta patanga
Meri aan baan shaan
Tsunami main tufaan
Har desh mein haiwaan
Mujhe kahan mile chain
Mera gaana jab bhi baaje
Police ye chor nache
Mujhe gyaan na pilana
Main hoon antaryami
Tum hari gun gaao
Main paidaisi haraami.. booh!
O chitta ve, o chitta ve
Kaiyan nu hai khush kitta ve
Hai mittha ve, hai mittha ve
Kundi nashe wali khol ke dekh
Udta Punjab!
Fakeera ve, fakeera ve
Ehi teri sohni Meera ve
Fakeera ve, fakeera ve
Bas nach naale khich ke dekh
Udta Punjab…
Chitta ve, chitta ve
Jisne vi ehnu litta ve
Jitta ve, jitta ve
Kundi nashe wali khol ke dekh
Udta Punjab…
Lyrics credits- www.lyricsmint.com